MAMSA Orientation 2015
To herald the start of yet another amazing year, MAMSA Victoria organised the MAMSA Orientation 2015 to welcome all its 67 members. The aim of this event is to officially mark the start to a new academic year and to introduce MAMSA as an organisation that endeavours to strive for the wellbeing of all its members.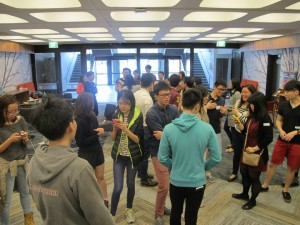 MAMSA members having a light chat and getting to know each other.
The day started off with registrations that took place as members started to trickle in one by one come 11am. As per all MAMSA events, free drinks and snacks were the mainstay of this event as members were encouraged to get to know medical students from other year levels, in addition to meeting the Year 5 students from the Monash Sunway Campus.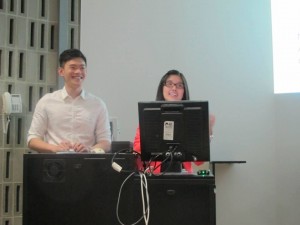 The speech given by the President and Vice Present of MAMSA.
By 11.30am, the speeches by the MAMSA Committee members were underway. Members from each department of MAMSA gave a short spiel of activities that they have planned for the year. Some notable activities were the Career Talks, Volunteering Trips and Academic Lectures that interested the audience. This was followed by a successful past event, The Secret Angels event that saw members giving anonymous gifts to their assigned Secret Angels. This year, there was a twist however, each member had to name things that they liked and disliked, which saw much laughter from other members as they learnt interesting facts about each other.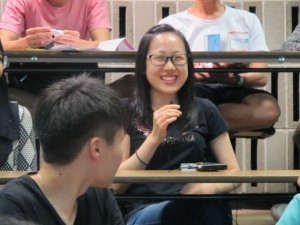 Ejuen having a light moment recalling her likes and dislikes during the Secret Angel event.
Lunch then followed, which consisted of mountains of free pizza. Games were played to forge closer bonds between members, which required signatures by members from other teams about things which they have done, i.e "Who has a pet rabbit?". (Well, that's a tough one) One last activity was planned by the Social Department before the day ended, and it was with a game of the Human Knot, a game which is actually much harder to solve than intially presumed, requiring lots of teamwork and communication, not to mention a heap of contortion that would make a yoga practitioner cringe!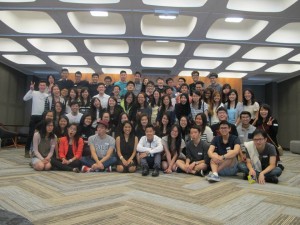 A group photo to mark the end of an amazing day for MAMSA and its members.
The day then came to a raptuous end, with lots of photos being taken and members bidding each other a heavy-hearted farewell.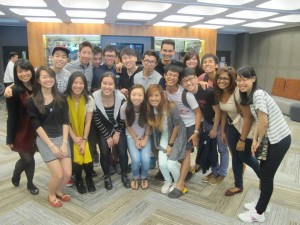 A photo welcoming some of the Year 5 students from Sunway Campus.
Till next time, MAMSA Victoria hopes to see all its members again for more fun times ahead!