After months of planning, the MAMSA China Volunteering Trip to Yunnan moved into fifth gear as the 10 member team departed for Yunnan on the 7th of January 2015 at 1.05pm. The 11 members consisted of Mr James Chua, a NGO member who would accompany us for 2 days, together with MAMSA members Sharon Chen, Alicia Thang, Elena Wong, Ching Yi, Joel Hng, Bryan Tan, Ryan Soon, Aunchain Yeoh, Zhi Xuen and Louis Lee. With the support of CCM Berhad as our official sponsor of 200 Champs Multivitamins, our trip started in earnest as we boarded the AirAsia plane to Kunming, China for an opportunity to volunteer in rural villages with a chance to make a differece to villagers suffering from leprosy.
We arrived in Kunming Airport at 4.55pm. On our arrival, we were fascinated by the intricacies of the modern and newly-renovated Kunming International Airport. Shortly after, we departed the airport in a van driven by Xiao Hai. True to his name (though in a different pronounciation), he was a bubbly and chatty figure who drove us around the entire trip. We had the pleasure of meeting Professor Boubacar Diarra, a Malian doctor who moved to China three decades ago and contributed a lot to Kunming's health sector.
Our trip consisted of a few major activities, which comprised the following;
Health Checks
We visited several rural villages in various parts of the Yunnan Region to conduct health checks. These consisted of villages that are merely 1 hour away from the city to a village that we travelled 8 hours to reach to by van. The journey was filled with excitement during the 8 hour trip. We traversed various landscapes such as  misty mountainous roads, gravelled roads that were really bumpy and grim reminders of left-over trucks from previous accidents along the highway. We also felt a pleasant change in the weather, from the winter climate of Kunming to the sub-tropical climate of a village that lay near the border of Myanmar.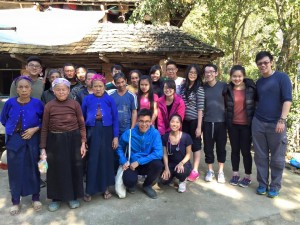 At the conclusion of yet another successful health check and lunch with the local community.
We enlisted the help of Local NGO's to act as translators and guides for us during these trips to the villages as the main language spoken in the region was a dialect of the Dai people. We performed checks on their Blood Pressure, Vital Signs, Cardiovascular, Respiratory and Nervous Systems physical examinations on the villagers to determine their general health and advise them on lifestyle changes to maintain a better state of health such as reducing the intake of salt and foods high in saturated fat.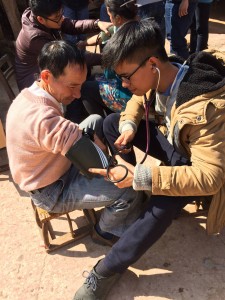 Aunchain checking the Blood Pressure of a local villager.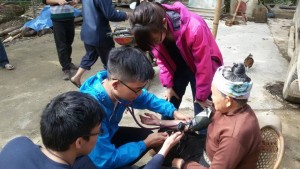 The health checks consisted of members from multiple year levels sharing their clinical knowledge.
We also had the opportunity to reach out to elderly patient who have recovered from Leprosy, though they have long-term complications from their past illness. We helped them to change their wound dressings from ulcers that resulted from the inability to sense touch on their peripheral limbs due to damage to the nerves as a result of Leprosy. Besides that, we provided them with some ointment for their eyes and skin as a form of long-term care of their post-leprosy care.
Helping Local Communities in Rural Villages
In trying to understand what the villagers go through in their day to day lives, we indulged in activities with the local community to better understand their local culture and norms. In doing so, we hope to give health advice to them while being mindful of how their daily lives limited them from certain priviledges that we would otherwise enjoy.
We tried our hands in cutting and carrying stacks of sugar cane that weighed in excess of 20kg as our first local activity. While we huffed and puffed our way staggering under the weight of the stacks of sugar cane, we realised that life in rural villages required a lot of hard work, and the village as a whole helps out in such activities.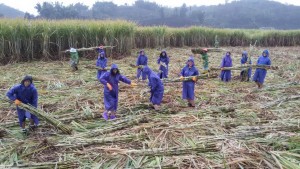 The team hard at work in the cane fields.
Besides that, we also hand-picked green beans that grew in hedges that are 10 feet tall. This seemingly easy task was actually really tough, and we stayed for about 3 hours before we filled out quota for the day.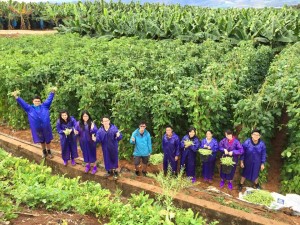 We managed to pick the whole field of green beans!
We also cooked for the village in feasts in order to bond with the local community. Some of the highlights of this would be the experience of going to the market to buy fresh produce of fresh meat in a market amidst the cacophony of sounds from peddlers selling everything from soy milk to freshly-cut meat, a sight typical of a wet market in Asia. We also tried our hands at catching fresh fish from the local fish ponds to add a source of protein to our meals.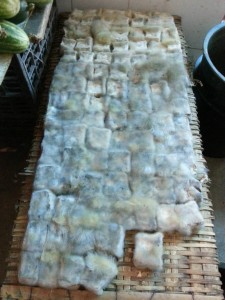 Mouldy tofu for sale in the local market, something we dont see everyday.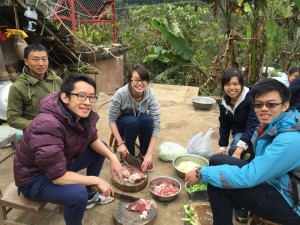 Preparing meats and vegetables in anticipation for the feast with the local community.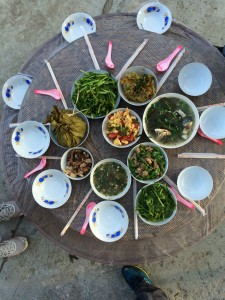 Here's the end result! Yummm
Recreation
Our last few days of the trip was spent touring the city of Kunming and its scenic spots, such as the Stone Forest and the Dragon Gate of the Western Hills. We savoured the local cuisine that was distinct from other parts from China, as it had a spicy element to almost every dish, with egg and tomato being our fond exception. We did some shopping in the city for clothes, mahjong sets and Pu-Er tea, all of which were reasonably priced. As it seems, Kunming was renowned for Pu-Er tea as the Pu-Er region was situated in the Yunnan region. We took this fantastic opportunity to try out the Giant Tea leaves that were picked from tea trees that only grew in mountainous regions around the region.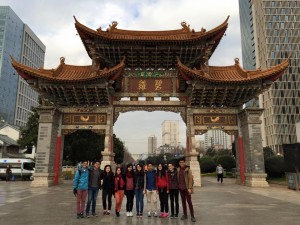 Group photo in the centre of Kunming City.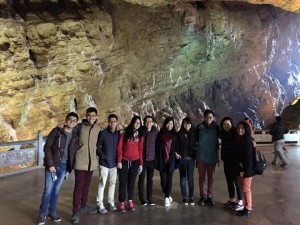 The majestic JiuXiang cave system of Kunming.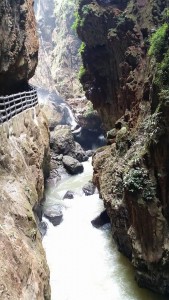 The fast flowing rapids traversing the JiuXiang Caves.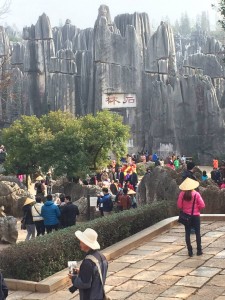 A view of the Stone Forest in Kunming ,a major tourist destination.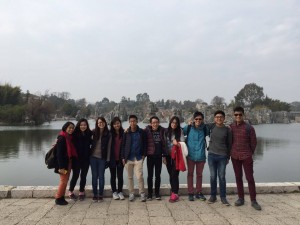 Another photoshot taken in the Stone Forest.
All in all, the trip was an overwhelming success and everyone enjoyed themselves while gaining some invaluable experience on healthcare overseas.
If you're yearning for an experience like this, MAMSA's volunteering trip continues next year, promising to be an event not to miss! Keep an ear out for announcements. Till then, have a great year!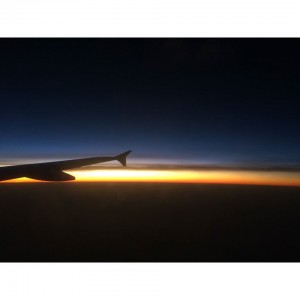 A scenic shot taken from the journey back to Malaysia at the conclusion of a truly memorable trip.